Default Strava Activity settings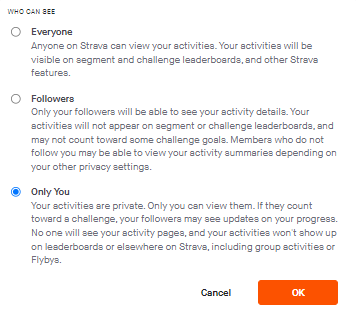 This is the default privacy setting for your activities. You can override this for each individual activity, so if you have a particular activity you wish to keep more private than normal then you can override that on that particular activity.
Everyone - anyone on Strava can see your activity details.
Followers Only - Only Followers will be able to see your activity details.
Only You - nobody else can see any information about these activities.

We recommend setting activities to Everyone or Followers.
Remember these are default settings and you can over-ride them for specific activities.
No details for activities which are Private are shown anywhere in Active Teams.